Problem: According to Harvard Business Review, 2 out of 5 new CEO's fail (are let go or resign) in the first 18 months on the job
Keyhubs Challenge: Provide a comprehensive view of employee relationship dynamics that can help the new CEO hit the ground running and ensure a higher chance of long-term success.
What We Did: A custom survey was designed to uncover the hidden gems and influencers, organizational gaps or silos, and teams that are inherently high-performing. With this, the CEO could walk into his new role fully informed about the critical lynch-pins and intrinsic people dynamics that would have otherwise taken months to "unearth".
Below, we are presented with a clear view of the key knowledge leaders in the business. 80% of knowledge flow is brokered by just 7 (less than 5% of the) individuals in the organization. Only 1 of those individuals is at the leadership level.  New CEO's tend to spend most of their first 30 days getting to know their direct reports. While that is important, this evaluation revealed additional key stake-holders and influencers that needed to be front-of-mind for the new CEO. Knowledge about the state of his organization could be most quickly and accurately gleaned by a team of informal leaders revealed in the Keyhubs evaluation.
The Knowledge Network exposes 7 key knowledge hubs: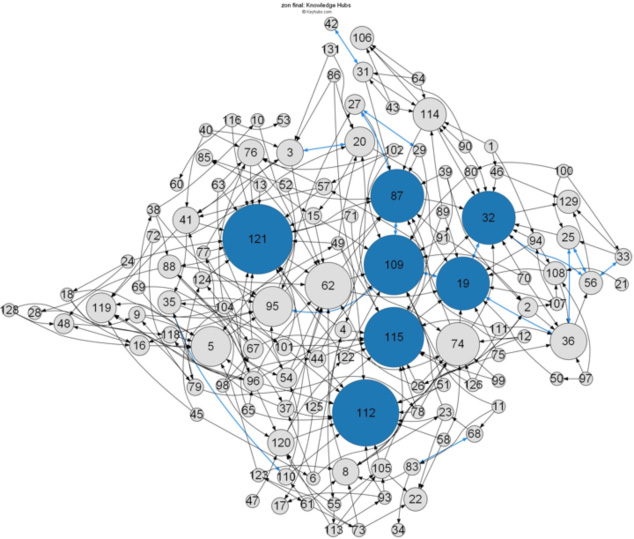 [The Keyhubs Maps consist of an aggregation of nodes and links. Each node represents an employee. Unique, randomized numbers have been assigned to the nodes to preserve confidentiality. Links are represented by either a one-way (black arrow) or two-way/mutual connection (blue arrow). Node size is driven by the number of incoming connections or how many times an individual was selected by their peers]
The immediate network of the 7 key knowledge hubs touches 80% of the organization: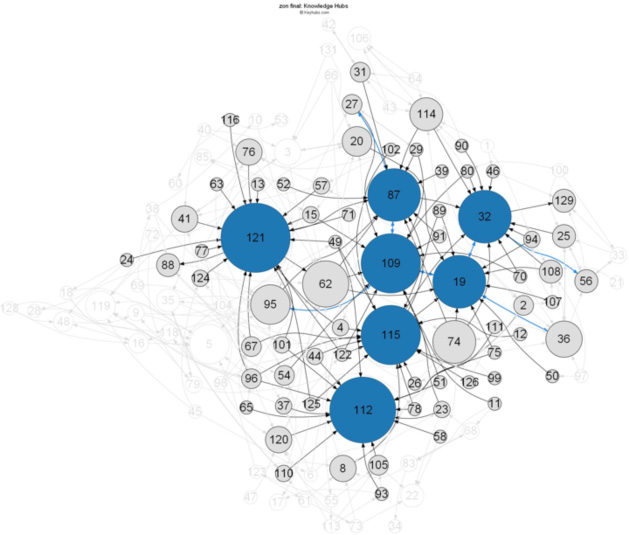 In addition to the knowledge network, the Keyhubs Evaluation revealed influencers and team dynamics in 9 other categories, including Trust, Collaboration and Positive Work Culture.
Result: The client was so delighted with the insights that they have made Keyhubs a regular part of their employee and team assessment process.
"I found the Keyhubs information to be even more insightful and helpful than I originally thought.  I used the information in a variety of ways, including quickly coming up-to-speed on how our organization really works and during the employee evaluation and review process.  I am definitely looking forward to the next Keyhubs evaluation."
– CEO at Zonare